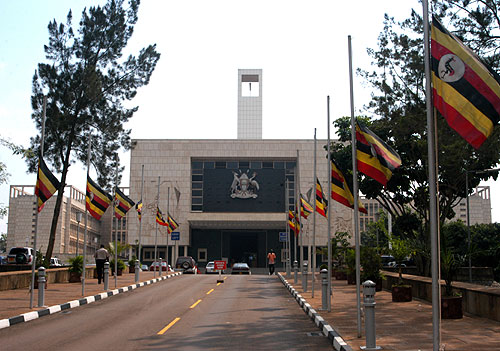 The Local Government Accounts Committee has tasked Accounting Officers in the Gulu Audit region to explain the queries raised by the Auditor General in the financial report for the year ended 30th June 2016.
The Committee led by the Chairperson, Hon. Reagan Okumu, met Chief Administrative Officers from the districts of Gulu, Kitgum, Agago and Nwoya.
The Committee was in the region between 26th and 30th June 2017.
Okumu said that Apac and Lira districts were the worst in the Lango region with incomplete vouchers amounting to Ushs33.2 million. He also highlighted the missing payment vouchers, under collection of local revenue and use of inappropriate procurement methods.
Having failed to satisfy the Committee with their responses following reports of their involvement in border criminality, Okumu handed over officials from Apac Local Government and Lira Municipality to the Criminal Investigations and Intelligence Directorate (CIID) for further investigation.
"We have handed these officials to police because they denying us documents and information. They are presenting false information under oath. Let the CIID investigate and avail us with correct information,"  Okumu said.

Hon. Okin P.P. Ojara (Chua West, Kitgum) supported the decision to refer the officials to police. "We hope that action is taken against these officers so that the local people get services," he said.
Hon. Edward Sembatya Ndawula (Katikamu South) wondered whether the Accounting Officers were in charge of their dockets or had knowledge about accountability.
"Some accounting officers are not serious. The team from Amuru District came without critical officers and proper documentation to present to the Committee and we had to send them away. That is a total loss to Amuru District," he said.
He said Agago District officials had presented dubious accountability and demanded that the Chief Administrative Officer refunds the money.
Hon. Okumu informed the accounting officers that the major cause of crisis in local government was abuse of public offices, mismanagement, corruption, staffing and incompetence.
The Gulu Audit region comprises of Gulu District, Gulu Municipality, Kitgum, Agago, Nwoya, Pader, Amuru and Lamwo.
Under Section 89 of the Local Governments Act, (Cap 246), the Committee on Local Government Accounts is mandated to examine the audited accounts in relation to the Auditor General's Report laid before Parliament by the Minister showing the appropriation of funds granted by Parliament to local governments.
The Committee is set to travel to Soroti, Jinja and Masaka Audit regions later in July.