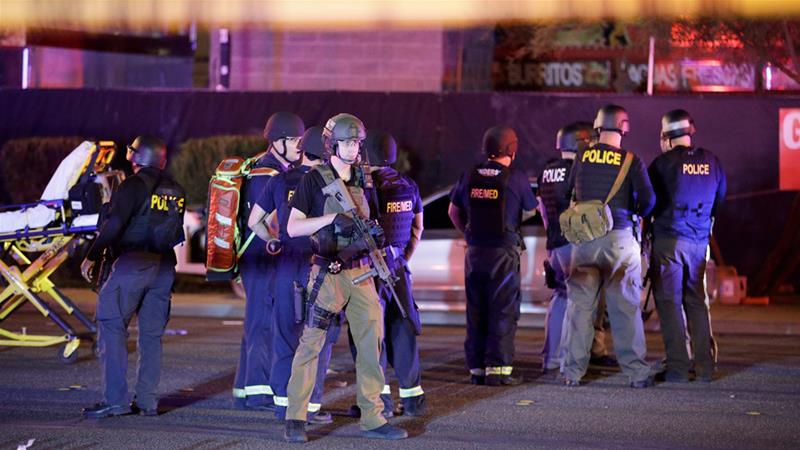 A gunman in a high-rise hotel overlooking the Las Vegas Strip opened fire on a country music festival late Sunday, killing at least 50 people and injuring hundreds of others in the deadliest mass shooting in modern American history.
The gunman, identified by police as Stephen Paddock, was later found dead by officers on the 32nd floor of the Mandalay Bay Hotel and Casino, Sheriff Joseph Lombardo said during a news briefing.
The shooting marked the nation's latest outbreak of gunfire and bloodshed to erupt in a public place, again transforming a seemingly routine night into one of terror. The carnage in Las Vegas surpassed the death toll of 49 people slain in June 2016 when a gunman in Orlando, who later said he was inspired by the Islamic State, opened fire inside a crowded nightclub.
Lombardo said the death toll could rise, as police were still investigating the scene. Police also said an estimated 406 people were taken to area hospitals after the shooting. Authorities did not specify how many of the people were wounded by gunfire or injured in the chaos that followed.
Paddock, 64, was found dead in his hotel room by Las Vegas SWAT officers who responded to the call about the shooting, police said. They believe he took his own life.

Under the neon glow and glitz of the Vegas Strip, thousands of concertgoers who had gathered for a three-day music festival dove for cover or raced toward shelter when the gunfire began at about 10 p.m. Sunday. Police said more than 22,000 people were at the concert when Paddock, who had checked into the Mandalay Bay last Thursday, began firing round after round.
Police believe Paddock, a local resident, was a "lone wolf" attacker. Lombardo did not give further details, however, on Paddock's background or possible motivation.
"We have no idea what his belief system was," Lombardo said during a briefing. "Right now, we believe he was the sole aggressor and the scene is static."
Recordings of the attack suggested that Paddock used an automatic weapon in the attack. He was found with more than 10 rifles, Lombardo said.