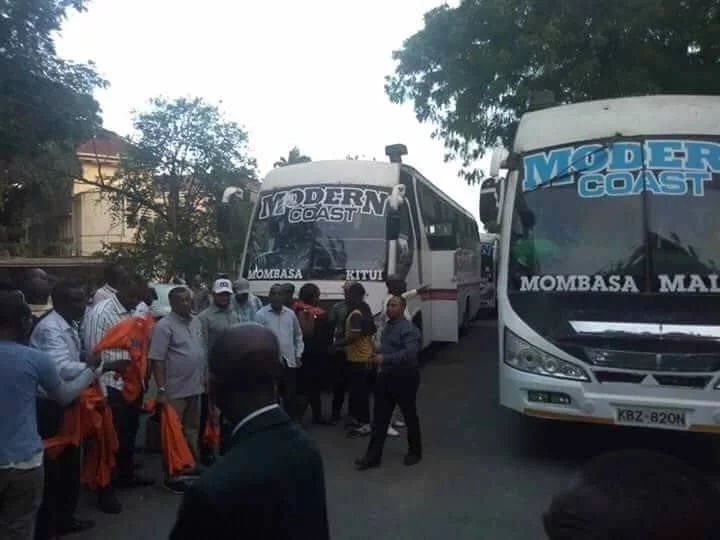 Police officers in Voi are allegedly holding at least three buses that were ferrying National Super Alliance (NASA) supporters from the coast region to Nairobi ahead of the controversial swearing in of Raila Odinga and Kalonzo Musyoka.
According to TUKO news, police is detaining the buses on grounds that some of the passengers did not have identification documents.
Apparently, the security officers mounted a road block where they screened every bus on the road to the country's capital.
However, according to Voi OCPD Joseph Chesire the buses were intercepted due to traffic offences.
Its said that the three buses and the passengers have now been released and allowed to proceed to Nairobi.

This came after photos and videos emerged of leaders from Mombasa county flagging over 50 buses full of NASA supporters eager to attend the swearing in.
The buses had been hired by leaders from the coast region and Mombasa county speaker Ahrub Khatri flagged them off at the Treasury Grounds in Old Town Mombasa.

NASA has pressed on with the coronation of its leaders despite dire warnings from the government.
Police in Nairobi say they will not allow the event to happen at Uhuru Park grounds, but its said that the venue is still accessible despite being declared a no-go-zone by police and the Nairobi county government.
A beehive full of bees was found by some NASA supporters behind the dais at Uhuru Park. They set it on fire and threw the remains into water.