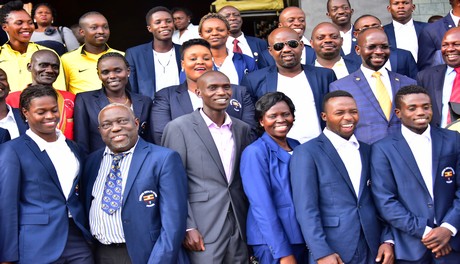 Members of Parliament have adopted a motion congratulating Team Uganda for their performance during the 2018 Commonwealth Games held in Australia.
The motion was moved by Ajuri County MP Hon. Denis Obua Hamson, during a plenary sitting on Tuesday, 24 April, 2018 and seconded by five other MPs including Bukedea district Woman MP Hon. Anita Among and Usuk County MP Hon. Peter Ogwang.
Hon. Obua commended the Ministry of Education and Sports and National Council of Sports for ably coordinating the teams at the games.
He however, noted that Government needs to fast track the completion of the high altitude training center in Teryet, Kapchorwa and other sports facilities in the country like the Mandela National Stadium in Namboole.
"The Kenyan Government is not happy that Ugandan athletes are training from Kenya and going ahead to win medals against their own athletes. As a country, we must put in effort to build this center to facilitate training for our sportsmen and women," Obua said.

He also called on Government through the line ministry to fast-track the tabling of a bill meant to repeal the 1964 National Council of Sports Act saying, "we are more or less managing sports in Uganda with a 20th century law."
Hon. Anita Among commended the women for their performance citing the She Cranes netball which came sixth overall. Among called for investment in sports.
"Mr. Speaker, to show appreciation as Parliament, to these medalists, it is our responsibility to appropriate funds to this effect," Among added.
Hon. Peter Ogwang queried the support from multinational companies and public partners in promoting sports development in Uganda, noting that this would go a long way in improving sports.
"Look at the investment when it comes to marathons that are held once a year, or the KCCA gala; why are we failing to do that in sports?" noted Ogwang.
Former sports medalist and Otuke County MP Hon. Julius Acon  commended Government for supporting the athletes at the Australia games, which upped their performance morale.
"In my time [1994] we would get US$100 for four years, but I was told that this time, every participating athlete got shs7 million. I want to thank Government for that," said Acon.
Hon. Mary Karooro Okurut (NRM, Bushenyi) called for talent grooming from a young age which can be natured and groomed for excellence in future sports activities.
State Minister for Sports Hon. Charles Bakkabulindi noted that Government would commit to fast-track the completion of the training centre in Teryet, Kapchorwa.
"As we talk now, electricity, water and the primary school have been built using the money that you gave us," said Hon. Bakkabulindi.
The 2018 Commonwealth Games 4 and 15 April 2018 with Uganda winning three gold medals and one bronze.