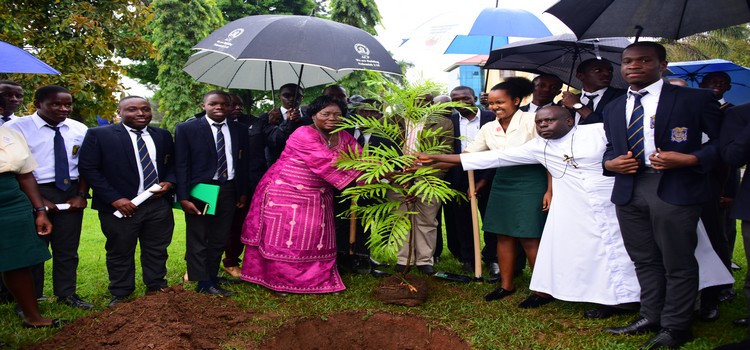 The Speaker of Parliament, Rebecca Kadaga has urged students of St. Mary's College Kisubi (SMACK) to plant trees every year as they are promoted to the next classes.
Kadaga made this call while launching the Youth Go Green Club at the school on Saturday, 02 March 2019 where she encouraged the students to do this as a side business.
"As a country, we are not very focused on planting trees but if it starts with you and me, we shall go a long way. There is also a lot of money in selling seedlings so you can grow young trees in your background and sell them for some pocket money," Kadaga said.
The President of the SMACK Youth Go Green Club, Gordon Olemo said that the club aimed at revitalizing the environment not just at the school and its neighborhood but all over the country.
"This is a club aimed at revolutionizing the fight against climate change and environment degradation through active youth involvement in the preservation of our green cover," he said.
He added that, 'we are committed to saving the environment and this is in the way we carry ourselves under the leadership of our Grass Writer/ General Secretary who sees to it that we are on cause with our green campaigns," he said.

He added that the cleanliness of the compound is as a result of the students understanding the need to keep the compound clean and green.
"We also make and distribute paper bags to the school canteen and make sure that we keep our environment safe from the polythene bags, he revealed.
Olemo said that the club was started last year and that they hoped to partner with other organisations in the campaign to save the environment.
"We are a team of young men with zeal and energy and have a dream of seeing our country green again. Youth Go Green organization has held our hand and we shall succeed with a little financial help and logistical support," he added.