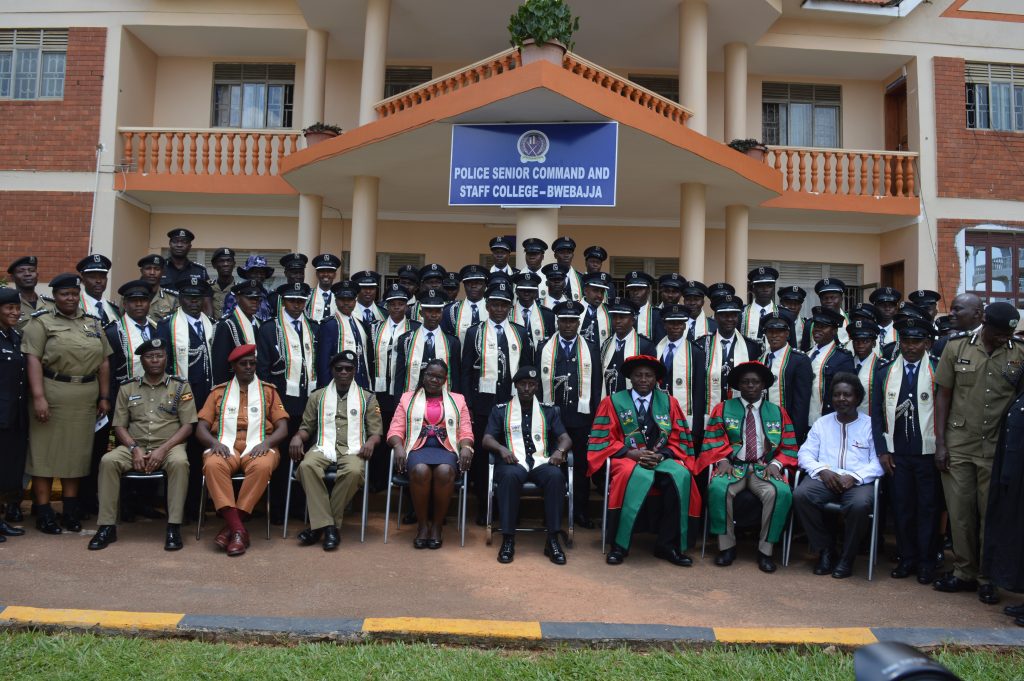 The Deputy Inspector General of Police, Maj. Gen Sabiiti Muzeyi has urged Senior Officers to lead by example to their subordinates as they perform their day to day.
The DIGP made this remarks today as he presided over the pass out ceremony of 45 Police Officers that have been undertaking a four months Intermediate Command and Staff Course at Police Senior Command and Staff College, Bwebaja, Wakiso district.
"In order to deal with real life issues, which is protection of life and property, this nobel calling which you chose by yourselves demands your utmost ,be guided by love in all that you do , the skills you get are to make you the best and efficient as you perform your duties and lead by example let your works, deeds and words follow you so that the rest can emulate who you are, if choose to sleep early and expect your subordinates to sleep late forget it , if you drink , or corrupt and expect the majority to behave otherwise forget it," he said.
He added that Peace and security is a sine-quanon for prosperity and therefore officers must guard it jealously.
"You don't come to school here to pass time you came to this college to get skills to do your job well,our job is real , its not fiction or drama its real business so the skills that your given will go a long way in improving the security of Ugandans ,take it seriously don't leave it here in your books" he said
He told officers that they get to the college knowing that the aim is to improve their skills and therefore must put them into action to make Uganda much better.

"I want to emphasize this that you should be serious and reduce your time of sleep, you have time to sleep, why do you sleep at a time when you are supposed to work, the clock is counting, do right things at a right time" he said.
He urged officers to uphold virtues of honesty, discipline, and hard work as they enable them to handle assignments with distinction.
He thanked the commander in Chief of armed forces the President for the recent investment in anti-crime infrastructure, like CCTV cameras, figure printing of weapons, investment in forensic sciences ,registration of motor vehicles and motorcycles  which he said  will significantly change policing in Uganda.