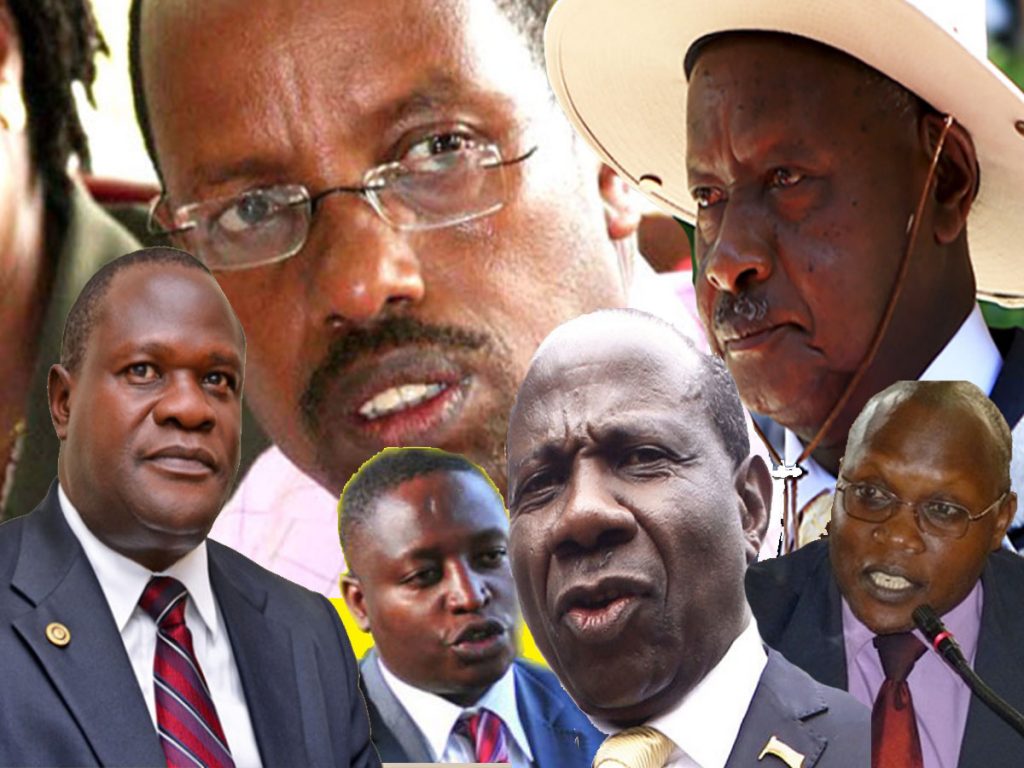 All is not well at Ministry of Finance Planning and Economic Development, the Insider can exclusively report. Intrigue and infighting is rocking the mighty ministry and is tearing it into pieces, sinking the entire top management into a Cold War.
The latest from the House of Economics indicate that a cross section of Ministers led by Matia Kasaija, David Bahati and Gabriel Ajedra Airdrie want Mr. Keith Muhakanizi thrown out the Ministry and replaced by his Deputy Mr. Patrick Ochailap.
Our sources have intimated that since Muhakanizi took a sick leave early January, Matia Kasaija has been chairing meetings of top management discrediting Muhakanizi while hyping praises over Ochailap as the most competent person to be the Secretary to the Treasury.
It is said that in one meeting that took place mid last month, top management at the ministry was thrown into shock and awe when the three Minister attacked Muhakanizi in his absence and belittled him before his juniors as the most incompetent person who has mismanaged Uganda's economy.
In the meeting was among others attended by State Ministers David Bahati and Gabriel Ajedra Airdrie, the Budget Director Mr. Kenneth Mugambe, Ms. Betty Katsimbazi, the Under Secretary as well as the Deputy Permanent secretary Mr. Patrick Ocailap.
Muhakanizi was also accused of crippling the economy through funding projects unknown to them like the Kampala International Specialized Hospital yet to be established in Lubowa along Entebbe Road. He was also accused of blocking their maneuvers to carry out their official duties at the Sir Apollo Kagwa Road based Ministry.

Our sources have revealed that the trio have since been lobbying President Museveni to have Muhakanizi axed and get replaced by his deputy Mr. Ocailap. Ochailap who is soon clocking his retirement age by mid this year is said to be a darling of the trio Ministers. They claim that Ochailap is a listener and works better with them than Muhakanizi.
It's however said that when the proposal was tabled to President Museveni by Matia Kasaija, the President only nodded in unclear way and has kept silent on matter.
"Those men are so serious about Muhakanizi. They have been planning this for a while but the biggest challenge they have is that Mr. Muhakanizi is the President's darling. However they took Ochailap to the President and submitted their request. The president however has said nothing to their request" Our source revealed.
It said that Muhakanizi's bad blood with some of the ministers has been boiling up for sometime until this year when it hit the boiling point.
Last Month, Muhakanizi became whistle blower in his own ministry over shoddy deals that were being processed at his own ministry.
He highlighted a problem in the way 10 large companies were planning to share the Shs 150bn without adequate verification. These companies are part of the original list of 33 firms that parliament agreed upon as qualifying for compensation because of the losses occasioned by the war in South Sudan.
In the internal memo dated 11th February 2019 (addressed to Kasaija, Bahati, Ochailap and Accountant General), Furious Mukanizi accuses his deputy Patrick Ochailap and minister Matia Kasaija for trying to use his absence to hurriedly pay out huge sums of money to questionable beneficiaries without adequate verification.
It is said that only 6 of the 10 companies are sham and the remaining 4 are questionable because they belong to one person and in this bid, Muhakanizi demands that the payments that had started in his absence as Ochailap acted should be halted until audit firm Ernest & Young carries out a verification Audit on the authenticity of the 10 firms that Kasaija and David Bahati want to share the first payment of 150bn.
However commenting on the matter, Minister Matia Kasaija succumbed to pressure and immediately wrote an urgent memo to the Acting secretary to the treasury Mr. Ochailap ordering for an independent probe in the allegations rotating around the compensation of Ugandan traders in South Sudan.
Muhakanizi is said to be on sick leave and is expected to be in office by 20th March, 2019.