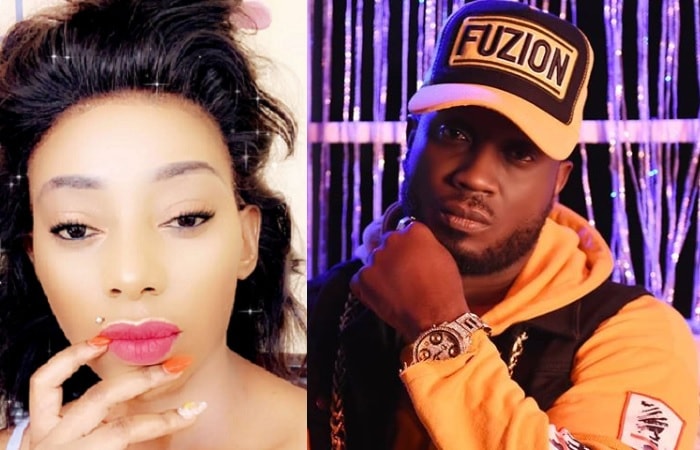 Why are you hitting hard your colleague? Is the question our insider asked Ms. Shanita Namuyimba aka Bad Black but the reply was just a simple mockery laugh.
The Mudguard singer went on revealing her bedroom secrets with the Uganda's self-proclaimed Big Size alias Bebe Cool.
Bad Black claimed that Bobi Wine's Kyarenga verse 'Obalaba Bapika Obunyama, Naye Nga Work Wa Mbwa' a Luganda statement meaning that not all masculine and mugged men are good in all areas.
Black who just turned 32 claims that her relationship with the 18 and Over singer was a total mess.
This all started when Bad Black commented on Zuena's Cake Garage that was shared days back, in her message, the ex-con noted that Bebe Cool's wife deserved a better location for her business. Shanita added that the current location for Zuena's cake and decor business could easily cause Cholera.

Bebe Cool simply said that Bad Black's problem right now is that she is broke recalling the times she used to dish out lots of dimes, but now, can't even afford 10k handouts.
This is happening days after Bad Black came to the rescue of Pretty Glo whom she paid for hospital bills amounting to over 6million so talk that she is broke could not be tolerated by Mama Jonah who went on Snapchat to spill the beans;
"Bebe, look at me closely. I have had respect for you all this while, I grew up knowing you and by 2012, we became real close. The thing with me is that I don't beef with someone I've had a fling with."
"We tried making out, but due to the bullet shots you were nursing at the time, it was not forthcoming. You are the last person I could be going to war with."
"You used to come to my Munyonyo home with Zuena just in case you have forgotten. It is not you behind my good looks, I take real good care of myself and everything."
"Between you and me, I sell like a hot cake, I can only be equated to latex rubber in terms of demand and you are the equivalent of a used one."