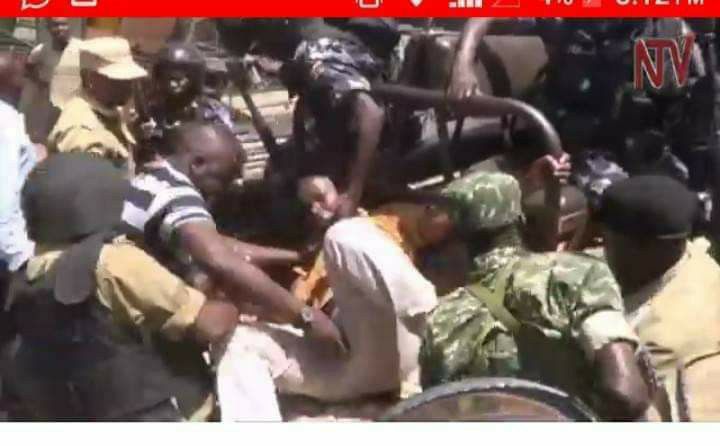 The Uganda Police force and the sister security deployed in Jinja town on Saturday have been heavily criticized acting outside the law and using excessive force while handling opposition supporters.
According to the pictures that have emerged, show police officers beating and brutally arrested Ronald Muhinda, a media assistant in the People's Government.
Muhinda, an aide of opposition figure Kizza Besigye, was arrested twice in Jinja town and at Kirinya where his manhood was brutally squeezed by a yet to identified plain clothed officer.
According to Besigye, Muhinda was the first victim of Kiira FM police invasion, where he was dispossessed of his devices.
After being rescued by "courageous activists" at the station, Muhinda was brutally re-arrested by the Military at Kirinya.
He had earlier reported that people fought police to secure Besigye who stayed in his car, evading arrest.

"I fought my battle to be freed. Surrounded and subdued, I had to fight to stay up! This is a battle we shall die fighting! No turning back. Those asking how I am posting without gadgets, the whole of Jinja has smart phones! I don't have to use my gadgets to access Internet!"
Police later teargassed City Hotel where Kiira FM is located and then sealed off the radio.