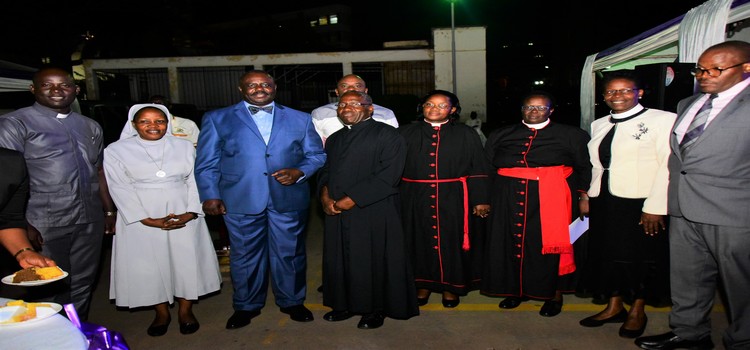 The Deputy Speaker, Jacob Oulanyah has said that Parliament of Uganda is the right place for Ugandans to make intercessions to God, basing on the Bible.
Quoting the book of Isaiah chapter 33: 22, Oulanyah said parliament is an institution that makes laws for the country and approves appointments for key leaders like judges, ministers and hosts members of Parliament and also brings together the three key arms of Government. He added that God will save the country through Parliament.
"If we get it right from this institution, we have gotten it right countrywide. If we have the right emotions and positivity coming in this place through Christ our Lord, this reverberates throughout the country," Oulanyah said.
Isaiah 33:22 says that, "For the Lord is our judge, the Lord is our lawgiver, the Lord is our king; it is he who will save us".
The Deputy Speaker made the remarks while addressing a congregation that attended the first ever joint Easter Carol Service organized by the Anglican and Catholic chaplaincies on Tuesday, 16 April 2019.
Oulanyah added that the celebration of Easter at Parliament had been done in the right format, given that the institution was a unique place that united all Ugandans.

"The parties, languages or tribes that divide us are not deeper than the blood that connects us as one family under God," said Oulanyah.
He also commended the Church of Uganda's Female Provost in Kampala Diocese, Rev. CanonRebecca Nyegenye for giving an edifying presentation adding that God's mission is unstoppable.
Oulanyah revealed that the Speaker Rebecca Kadaga was in much better health, and called on Ugandans to "…pray for her total healing so that she can return to do the assignment which God has given her in this institution and move it forward".
Rev. Canon Nyegenye in her sermon based on Simon Peter in the Bible said that Ugandans and the world at large ought to pick a leaf from Simon Peter who showed dedication to Jesus Christ.
"Peter knew how to handle failure through his repentance, and I wish Ugandans will learn what it takes to do genuine repentance," Nyegenye said.
Hon. Francis Gonahasa and Mr. Innocent Rugambwa, the deputy heads of laity of the Anglican and Catholic chaplaincies respectively called for continued joint celebrations for major Christian events in particular Easter and Christmas, in a bid to bring believers together.
"I pray that this will be an annual event of expression of our unity of purpose as Christians and more so in this Holy week when we focus on the life, death and resurrection of Jesus Christ," Rugambwa noted.