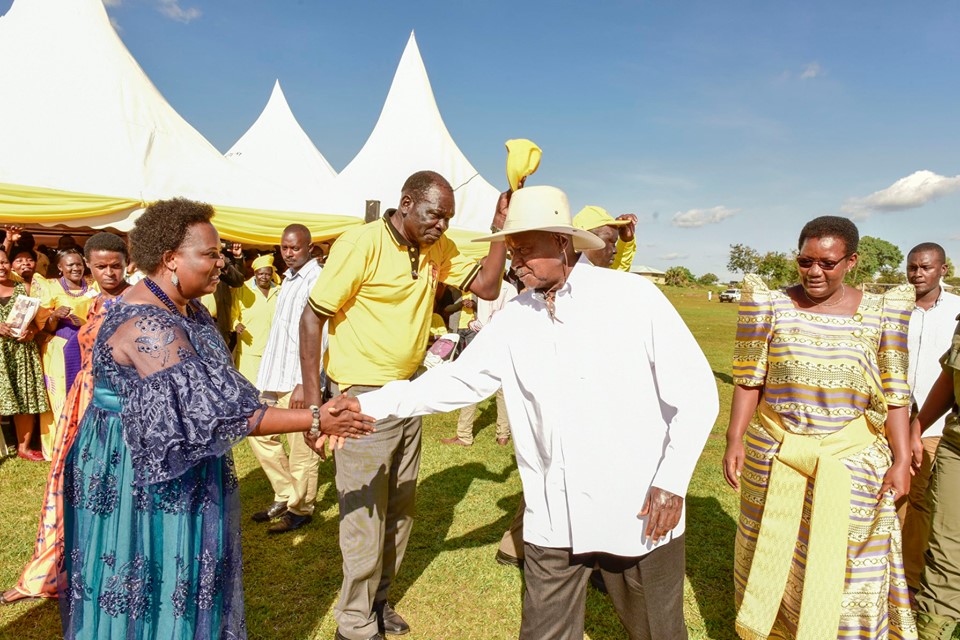 In President Museveni's 6th phase of the nation-wide wealth creation campaign, he addressed leaders of Acholi sub-region at National Teachers College Unyama grounds, in Gulu Municipality.
These grounds were once an IDP camp, but as a result of the peace that was restored in the region, it has now been restored to a fully functioning teacher training centre.
They discussed how to improve the livelihood of our people, because as leaders, it is sacrilegious to look on, as the people we lead wallow in poverty.
The average land holding in Gulu is 7 acres per household. With this kind of land holding, our people should adopt the four-acre model of commercial farming.
"We need to change the mindset of our people, so that they change from subsistence farming, that is why the meeting with these leaders is important; if they are convinced, they will convince their people. Alluding to the bible, I want you to Seek ye 1st homestead income and the rest will be added to you. When you have sufficient income as a home, even If government has not brought electricity close to you, you can install solar power, even if the water source is far, you can construct under ground water tanks, supplying your home with clean water." Museveni Stated.
He added that in communities in the Western part of the country, where this message has been embraced, they are doing exactly this.

"Because they listened, when we taught them to abandon nomadic lifestyle and traditional diary farming, they adopted modern methods of cattle keeping. Now they are reaping from improved milk yields, which has greatly improved their income." He added.
This is where the key to social transformation is; Change the way of our people. Key to this is the issue of Land management.
"I am happy that Acholi sub region still has sizeable land holdings per household. I therefore encourage you to desist from land fragmentation on inheritance, instead introduce the culture of forming family companies, so that you divide shares of what income you get from the land and not the land." He added revealing that Government is going to support you through grants from the various initiatives already running eg, OWC, Youth fund, Women fund, PWD fund etc.
Museveni added that this financial year we are introducing the Youth value addition fund, to cater for the various youth involved in enterprises like; Salons, carpentry, Boda Boda, bakery , artisans etc
"I want to dissuade you from following the rhetoric of diversionary leaders. The issue of Apaa is being blown out of proportion. It is a local to Apaa people. Do not aggravate it as if the entire Acholi region is embroiled in land wrangles.
That is what I hear some leaders allover radios talking. Do not paralyse the development agenda. We shall deal with the Issue of Apaa and solve it to the satisfaction of those in Apaa." He said.