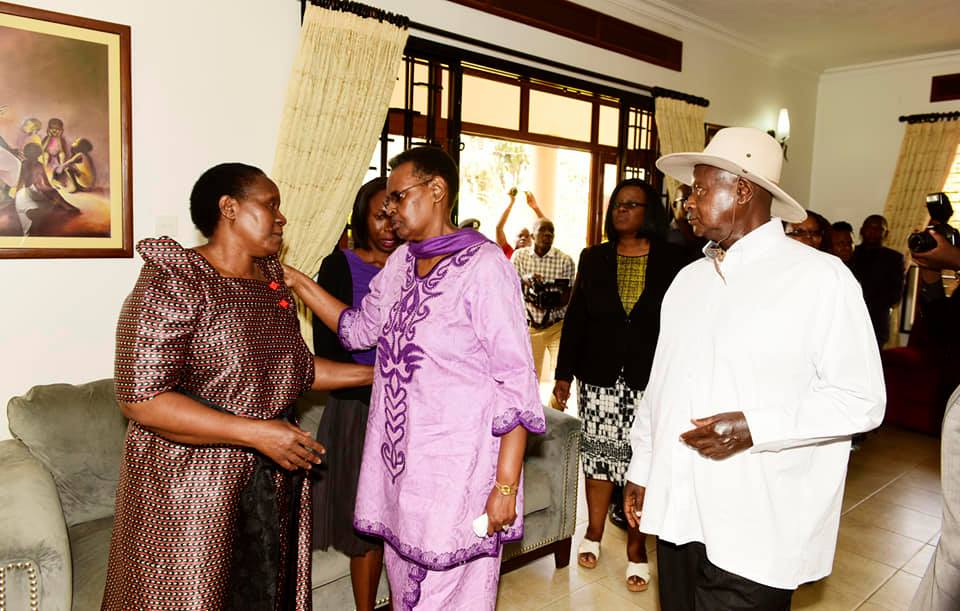 President Yoweri Kaguta Museveni together with First Lady Janet, visited the family of former Prime Minister Prof Apolo Nsibambi in Kampala to condole with them following his death on Monday evening.
Speaking to the family, museveni revealed how he first got to know Prof Nsibambi in 1969 when visiting a friend at Makerere University, who described the academic as a monarchist.
"I only got to interact with him in 1986, at a parents' meeting at Kampala Parents School and later during meetings with Makerere University staff where Prof Nsibambi was actively engaged in activism for a living wage. We had fruitful discussions that ultimately averted the threats of lecturers going on strike. My working relationship with Prof Nsibambi started forthwith and I later appointed him to Cabinet, where he served in different positions until his retirement as Prime Minister." Museveni noted.
He added that throughout their engagements, Prof Nsibambi remained steadfast in issues of education and academia, the Mengo establishment and the church.
"He was a man of principle who spoke his mind and advocated for what he believed in. Prof Nsibambi was an instrumental bridge between us, the guerrillas, and the academia and Mengo. He always encouraged inclusiveness and diplomacy as tools for a better Uganda." Museveni added noting that they last spoke three weeks ago on the phone and had a good conversation. What cannot be taken away are one's deeds and their contribution to a better world order.
May his soul find eternal peace.