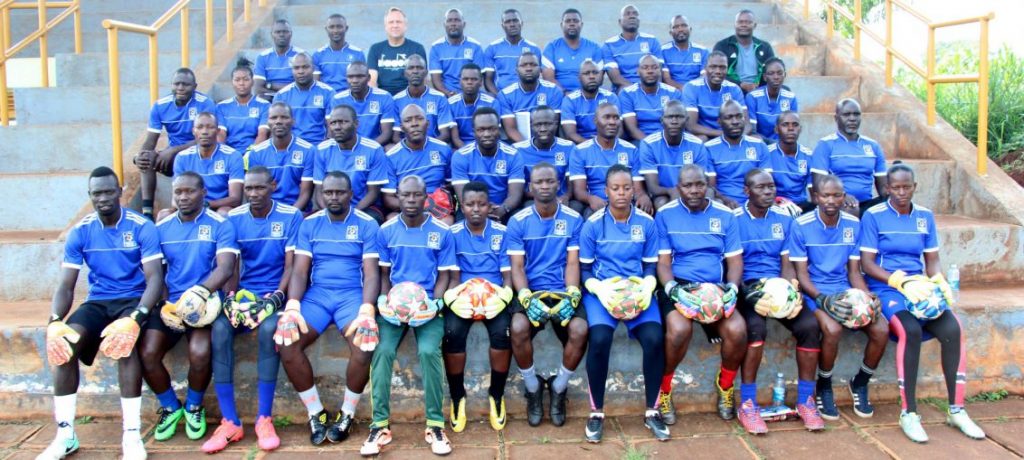 Forty-one Ugandan football coaches are undertaking the Federation Of Uganda Football Associations (FUFA) Goalkeeping coaching course at the FUFA Technical Centre, Njeru – Buikwe.
The course that commenced on Saturday 22nd July will climax on Thursday 27th July 2019 with coaches being given evaluation exams in both practical and theoretical aspects.
Of the 41 coaches, five are ladies coming mostly from Uganda's women top football league.
Presiding over at the official opening was FUFA's second Vice President Darius Mugoye who was thrilled by the Football Development Department for being innovative, flexible and creative.
'At the executive level, we are happy with the department.
We can't realise our objective of being number one footballing nation on and off the pitch in Africa if we don't empower human resource through capacity building' asserted Mugoye

Relatedly FUFA Football Development Director Ali Mwebe stressed about coaches who don't want to embrace these courses.
'In the near future it's going to be a requirement for all first and second tier clubs to have goalkeeping coaching license' noted FUFA Football Development Director
The list of Participants
| | | |
| --- | --- | --- |
| 1 | Ramadhan Musema Okuni | Onduparaka FC |
| 2 | Okello Sam Bill | Paidah Black Angels |
| 3 | Ogengo Charles | Gulu United FC |
| 4 | Adui Okule Rahuman | Doves |
| 5 | Magada Kenneth | Bull FC |
| 6 | Edweu Courage | Light FC |
| 7 | Kato Alfred | Hope Dove FC |
| 8 | John Billy Lukoda | Kyetume FC |
| 9 | Kigundu Stephen Billy | U.R.A FC |
| 10 | Sebaggala Swaibu | Proline |
| 11 | Muwada Byuma | Nansana United |
| 12 | Ssebaggala Frank | Busoga United |
| 13 | Ben Kalama Lwanga | Bright Stars FC |
| 14 | Issa Hassan Yusuf | She-corporate WFC |
| 15 | Oloya Moses | Vipers SC |
| 16 | Damba Jamil | Mbarara City |
| 17 | Bbale David | Edgar FC |
| 18 | Tezigwa Ken Rogers | Maroons FC |
| 19 | Kigenyi Abdul Sebale | Tooro United |
| 20 | Al-Sadiq Haruna | Araka FC |
| 21 | Nakiguba Cissy | Kampala Queens WFC |
| 22 | Kisitu Faridah | Kampala Queens WFC |
| 23 | Opoka Kasim | Police FC |
| 24 | Kansole Richards | Police FC |
| 25 | Kiwanuka Daniel | KCCA FC |
| 26 | Senabulya Tonny Rinto | Nkozi University |
| 27 | Lwanga Rachel Percy | She-corporate WFC |
| 28 | Kaweesa Eddie | SC. Villa |
| 29 | Okeny Bonniface Konge | Ndejje University |
| 30 | Dhaira Bright | Bill FC |
| 31 | Kakumba Sani | K.M.S.S |
| 32 | Kiggundu Ali Sentongo | Wakiso Giants |
| 33 | Kizito Alex | Wakiso Giants |
| 34 | Emitu Joseph | Ggaba FC |
| 35 | Senyonjo Yusufu | Mabalala City |
| 36 | Magala James | Express FC |
| 37 | Matovu Kim Fatma | She-corporate WFC |
| 38 | Musiime Fred | Doves |
| 39 | Mukasa Robert | URA FC |
| 40 | Aturo Ruth | UCU Lady Cardinals |
| 41 | Kiberu Mubarak | U17 National Team |