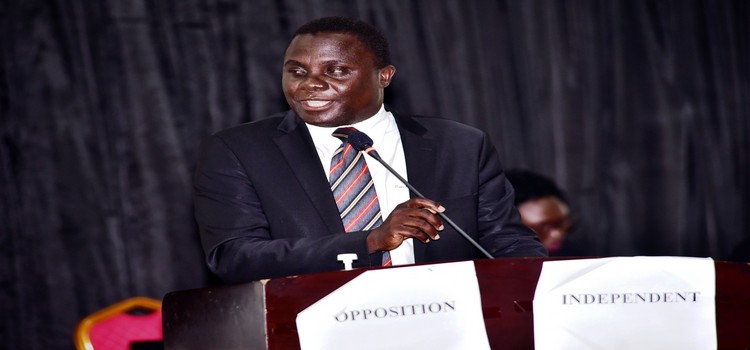 Legislators want more funding to be allocated to the health sector so as to improve services and facilities, including setting new infrastructure in a bid to improve sector performance in the next financial year.
Hon. Muhammad Muwanga Kivumbi (DP, Butambala County) suggests financial suppression to funding of some items in the 2020/2021 budget so as to avail more funds to accelerate the health, agriculture, trade and industry sectors.
He highlights items in the budget proposal like workshops and seminars, travel inland, travel abroad, welfare and entertainment among others, which he says when suppressed by 20 per cent in the Financial Year 2020/2021, would raise a total of Shs 376.1 billion.
"On top of already allocated figures, this amount of money would finance critical interventions like construction of hospitals in districts that do not have, development of intensive care units in all districts of Uganda and purchase of ambulances in every district," said Muwanga Kivumbi.
He added that the suppressions are geared towards freeing up funds for the health and agriculture sectors that are extremely critical in the response to Covid-19 pandemic and ensuring food security for several households during the ongoing country-wide lockdown ordered by President Yoweri Museveni to curtail the spread of the Covid-19.
Muwanga Kivumbi said this while presenting a minority report of the Parliament Budget Committee on the Annual Budget Estimates for Financial Year 2020/2021during the plenary sitting on Wednesday, 22 April 2020 chaired by Speaker Rebecca Kadaga.

MPs commended the Budget Committee for proposals to increase the budget to the health sector, and reiterated Muwanga Kivumbi's call to improve service delivery and implementation in the sector in light of the Covid-19 pandemic.
"The health sector has received great support from this House, and I want to inform the Executive that we should not come back here next year to be lambasted as MPs for failure to invest in this sector. We have played our part," said Hon. Monicah Amoding (NRM, Kumi Municipality).
The health sector budget has increased from Shs 2.5 trillion in Financial Year 2019/2020, to Shs 2.7 trillion, reflecting a push of over Shs 200 billion.
Other key sectors that have realised increased allocations for the next financial year include security, interest payments, education, justice/law and order, accountability, local government, water and environment, agriculture, public administration, science, technology and innovation, tourism, and ICT and national guidance.
The proposed resource envelope for the new financial year has increased by Shs 5.8 trillion, attributed to a budget increment in external financing, bring the total 2020/2021 proposed budget to Shs 45.4 trillion, compared to Shs 40.4 trillion in the 2019/2020 financial year.
While presenting the report of the Budget Committee on Annual Budget Estimates for Financial Year 2020/2021, committee chairperson, Hon. Amos Lugoloobi told the House that the financial year was going to be the first of implementing the National Development Plan (NDP) III, to which most escorts had not yet aligned their investment plans.
"The committee noted that the time between approval of the NDP-III and presentation of the annual budget (from February to March 2020) was not enough for sectors to develop sector investment plans for the next five financial years," said Lugoloobi.
He added that their good performance in absorption of the Government budget with Shs 10.9 trillion released against a target of Shs 10 trillion, representing a strong budget execution as at end of December 2019, of 109.5 per cent.
However, external financing as by end of December 2019 performed poorly with Shs 3.7 trillion released against target of Shs 4.7 trillion, representing a weak budget execution for the given period.
MPs called for increased budgetary allocations to sectors like trade and industry, to enable the economy stabilise from the effects of the Covid-19 pandemic that has affected local economics and global trade, as well as to Government programme like the Social Assistance Grants for Empowerment (SAGE) among others.