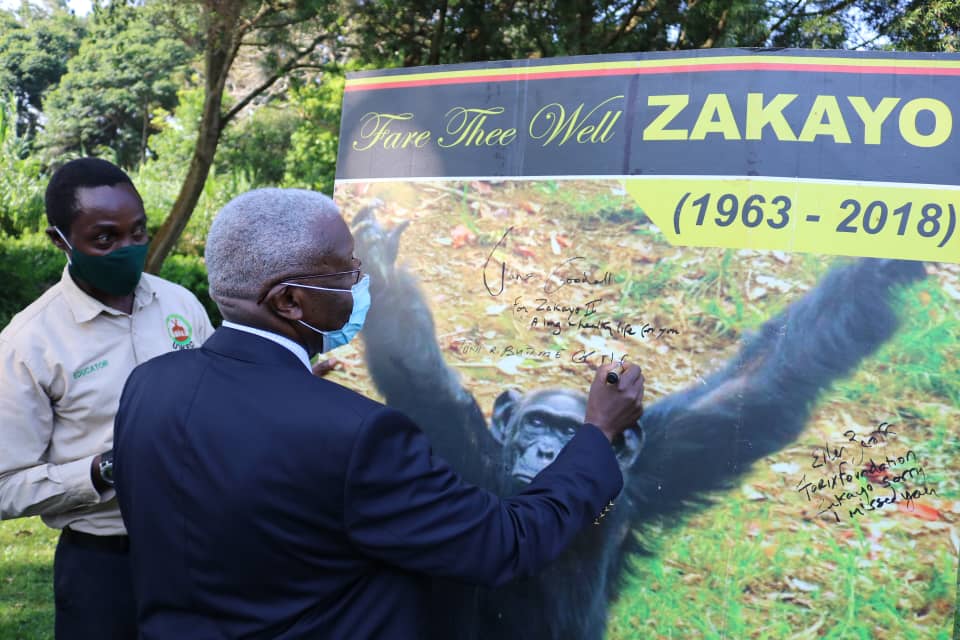 A sculpture commissioned by UWEC to celebrate the legacy of Zakayo was unveiled by the Minister of Tourism Wildlife and Antiquities Hon. Col. (Rtd) Tom R. Butime at UWEC on Tuesday, 23 June 2020.
Hon. Butime who was on his maiden visit as Minister of Tourism, Wildlife and Antiquities recognized Zakayo as a primate conservation ambassador in Uganda.
He further appreciated UWEC's commitment to wildlife conservation education and encouraged the institution to breed species which are at risk of extinction in the wild. As part of the mandates, this role enables UWEC to build a healthy animal population as a backup for endangered species.
Commenting on the greatness of Zakayo Dr. James Musinguzi, UWEC Executive Director, said:
"Zakayo was an icon at UWEC and a great ambassador to wild animals out there in the field. He is a testimony of UWEC's education and conservation programs. He attracted a lot of tourists to UWEC, but also Uganda at large.
He was a respected elder, great father who protected the young chimpanzees and settled family conflicts. He is also credited for the strong family bond among chimpanzees at UWEC. It is, therefore, befitting for us to recognize the efforts and contribution to Uganda's conservation.

Last year, UWEC established a Zakayo Legacy Day on 27 October, as a way to honor Uganda's oldest known chimpanzee who was a beneficiary of Exsitu conservation for 42 years at the model zoo. Zakayo succumbed to chronic gastroenteritis (Stomach ulcers), a sickness that affected his intestines and brought his 55-years illustrious life to an end.
About UWEC
The facility was opened in 1952, by the colonial government in Uganda, as a reception centre for wild animals that were found as casualties (sick, injured, orphaned, and confiscated from illegal trade).
In the early 1960s, it changed its role to a traditional zoo ("Entebbe Zoo"), a name that rings memories in the minds of many Ugandans to date. At that time, a number of nonindigenous species, including bears and tigers, were kept as attractions.
In May 1994, the UWEC Trust was founded to take over the zoo primarily for Conservation Education purposes. In 2015, it was elevated from an institution governed by a Trust deed to a Statutory Government Agency, set up by an Act of Parliament.
The Centre's location on the edge of Lake Victoria, its rich vegetation and its surprisingly wide range of birds, butterflies and other indigenous animals make it an attractive venue for education as well as a pleasing one for those who visit, whether Ugandans or people from overseas.