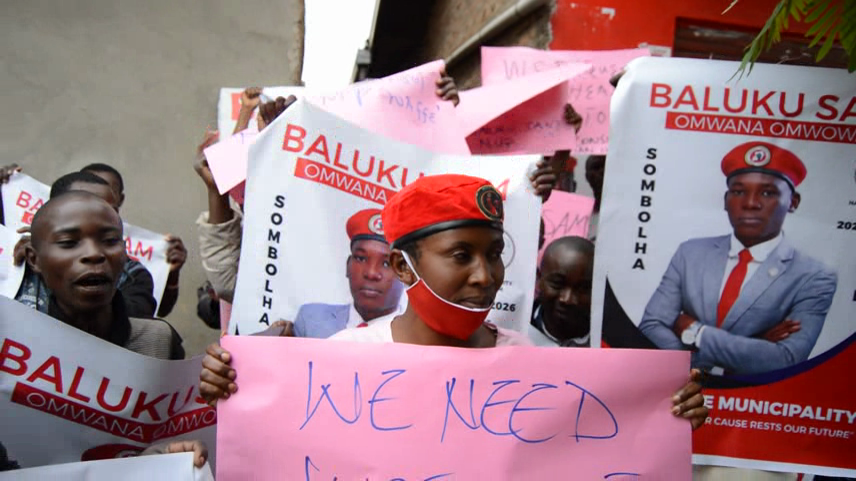 By Innocent Kiiza
The National Unity Platform (NUP) party supporters in Kasese municipality have vowed to return their party cards and cease to be party members if candidates of their choices are not handed the flags.
This follows the NUP electoral commissions' decision to front another candidate denying Sam Baluku a renowned NUP founder member and establisher of people power in Kasese the flag for Kasese Municipality Member of Parliament.
Gathered at the NUP office in Nyakasanga Township, in Nyamwamba division, led by Mughuda Medius said that the party electoral commission cheated Sam Baluku for Kahindo Amina a person that is not known by the people.
The angry and hungry supporters said that the NUP as a party came to be known and popular in Kasese district because of Baluku's commitment and sacrifice and for that he should be rewarded with a flag to contest for a parliamentary seat.
They insisted that the party EC organ reconsider Baluku for the flag or else they will hand over the party cards since they can't see the difference between their party and NRM when it comes to elections.

"We have been in the party because of Baluku whom we have seen to be potential candidate for the Municipality MP but because of the habits NUP is inheriting from NRM we might be forced to handover the party cards back or join another party," said an irritated supporter.
Kabugho Moreen, a strong supporter of Baluku and NUP said that: "It's him that we want but if he can't be given the flag then we have no option than to return the party cards.
Biira Aliah is a NUP supporter in Kasese who also stressed that whereas they feared to join the People Power movement, Baluku was so resilient and enduring which forced them to also join the party but they are now shocked to see those in Kampala imposing another person on them.
Matovu Julius says the electoral commission has not been considerate in gender as most of the flag bearers are females the reason they are calling for Baluku whom they see in the potential to overrun the other candidates fronted by other parties.
In his response, Basisa Brian the chairperson of National Unity Platform in Kasese district appealed to the party electoral commission to return all the powers to the people when it comes to selecting potential candidates to represent them, urging that it otherwise looks like the party is dictating on who should stand and who should not.
"It should be our role as voters on ground to determine who should lead us and for which area and position," said Basisa.
Meanwhile Amina Nono Kahindo the NUP flag bearer for MP Kasese municipality says the chaos is very normal but called upon Baluku's camp to drop their anger and rally behind her for the progress of the party.