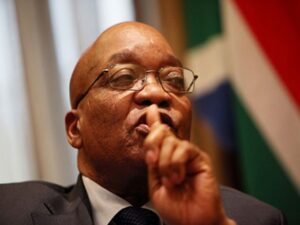 President Jacob Zuma has nominated Justice Mandisa Maya to become the president of the Supreme Court of Appeal (SCA).
This is according to a statement from the office of the president which further noted that the female Justice was well equipped and thus the best candidate to fit in the SCA. "President Jacob Zuma has, in terms of Section 174(3) of the Constitution of the Republic of South Africa, 1996, nominated Madam Justice Mandisa Muriel Lindelwa Maya as the President of the Supreme Court of Appeal,
"[Justice Mandisa Maya] was appointed as an acting judge of the High Court in 1999 and a full-time judge the following year. She has acted as a judge at the Labour Court, an acting judge in the Supreme Court of Appeal, and as an acting judge at the Constitutional Court," the statement said.
According to Maya's CV, her journey to the SCA started as an attorney's clerk in Mthatha in 1987. She went on to become a court interpreter, prosecutor, state law advisor, a law lecturer and a practicing advocate before she became High Court's acting Judge. She had also worked in the Supreme Court of Namibia and the Appeal Court in Lesotho.
As noted in the statement from the presidency, Justice Mandisa Maya was the first female to hold the court's deputy president office – officially replacing Judge Lex Mpati who retired in 2016.

In 2015, she was appointed as the first female deputy president of the SCA and now she makes yet another history as Zuma finally chooses her to head the SCA.