Business came at a standstill as military police officers arrested members of the Jobless Brotherhood in Kampala for distributing fliers protesting against the proposed lifting of the presidential age limit.
The team Led by Norman Tumuhimbise was dressed in white overalls inscribed on "Stop! Constitution ahead. 75 is the limit", the youth took to the streets in down town Kampala on Monday to rally the citizens.
Among the arrested was the Makindye legislator Hon. Allan Ssewanya who is also locked up in the same police police cell.
Jobless Brotherhood are much known for throwing pigs at top most government offices including parliament, State House among others.
However this demonstration comes a few days after legistlators from the ruling party passed a resolution to front private members bill advocating for the amending of article 102 of the Uganda constitution in a campaign dubbed 'Katujjikwateko'
Mean while during the weekend, The opposition Democratic Party (DP) National Vice president Hon. Fred Mukasa Mbidde was arrested in Fort portal town Kabarole district in Western Uganda.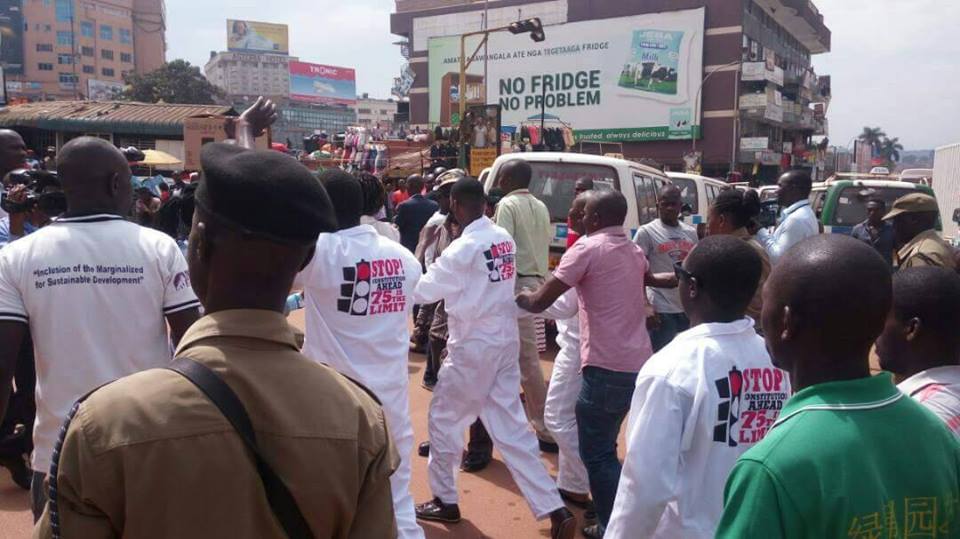 Mbidde who was in the area for the party's 'Kogikwatako' campaign against the scraping of article 102b from the constitution was arrested along with the party Gen. Secretary Gerald Siranda and other local district leaders around the post office.
According to the police spokesperson Rwenzori Region Lydia Tumushabe, revealed that the East Africa legislative Assembly (EALA) representative is currently being detained at Kabarole police station over unlawful assembly. Public order management act of 2013 vests power in the hands of the police to regulate or discard all public gatherings.