MPs have expressed concern over the performance of counterpart funding by Government on loans provided by external lenders to implement projects in the country.
The MPs on the Parliamentary Committee on National Economy raised the concern while meeting the Minister of State for Finance (Planning), Hon. David Bahati and officials from National Water and Sewerage Corporation (NWSC) on Wednesday 21 March 2018.
The Committee is considering a proposal by government to borrow US$26.85 million, as a supplementary loan from the African Development Bank (AfDB) to support the completion of Phase I of the Kampala Sanitation Programme. The initial project financing took effect on 18 February 2010.
In 2009, Government secured UA 35.0 from the African Development Bank to support the Kampala Sanitation Programme to improve the livelihoods of 1.4 million people in Kampala.
Committee members were dissatisfied with the level of execution of Government's financial commitment to fund projects alongside external funding, noting that this delayed some of the works in progress.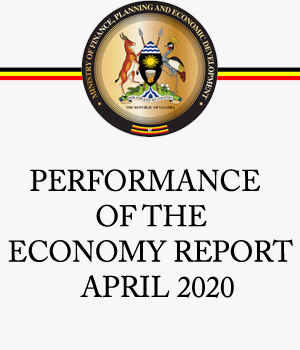 "The Ministry of finance should adequately cater for counterpart funding, to avoid issues of supplementary loan funding," said Hon. Thomas Tayebwa (NRM, Ruhinda North Cunty).

The MPs noted that NWSC should have made detailed designs and carried out comprehensive studies before borrowing, in a bid to avoid committing to a particular amount and later have to request for additional funding.
Eng. Amayo noted that the work on the project was 95 percent complete and that the supplementary funding was to cater for works pending completion.
"This treatment plant is the only one of its kind in East and Central Africa; there were no benchmark studies made in that regard," Eng. Amayo said.
Committee Chairperson Hon. Syda Bbumba (NRM, Nakaseke North) noted that resolutions to encourage proper commitment to funding by Government were necessary, to smoothen project implementation and completion.
"Noting the scarcity of resources by Government, we need to come up with resolutions to allow the lender to provide 100 percent loan funding so that counterpart funding doesn't delay projects," said Hon. Bbumba.
"Lenders are hesitant to cater for counterpart funding because that money usually covers compensations," explained Hon. Bahati, noting that, "funders want nothing to do with compensations."
"We haven't yet seen the performance on previous loans that Government received. We won't write the report till we get a checklist on compliance of loans," said Hon. Bbumba.
MPs also raised concerns of the reach of NWSC services to their constituencies, as well as efforts by the Corporation to ensure environment protection through tree planting.
"National water should consider extending water to rural areas. Every municipality should have access to clean water because if you limit it to Kampala, you leave out the rural areas," said Hon. Hatwib Katoto (NRM, Katerera).
MPs asked the representatives from NWSC to provide a clear path of the performance of the original loan funding for the sanitation project, to the current supplementary funding being requested for.
Eng. Amayo said that NWSC had achieved construction of over 1,000km of piped water countrywide annually, noting that, "… the cost of producing a cubic meter of water is more expensive in rural areas than in Kampala, because Kampala residents benefit from economies of scale."
Meanwhile the Committee has tasked Government, to ensure that all victims of trade loss following the conflict in South Sudan, are all compensated. The Committee considered a separate government request to approve US$ 41.6 million loan to pay traders that lost business following the outbreak of war in South Sudan.
On 20 November 2010, Government of South Sudan and Government of Uganda signed a Memorandum of Understanding (MoU) concerning settlement of US$56 million owed to Uganda-South Sudan traders by the Government of South Sudan. US$ 15 million was subsequently paid, leaving the balance of USD41.6 as the outstanding debt.
According to the bilateral agreement, the commitment by Government of Uganda to pay the traders will be treated as a loan to Government of South Sudan.