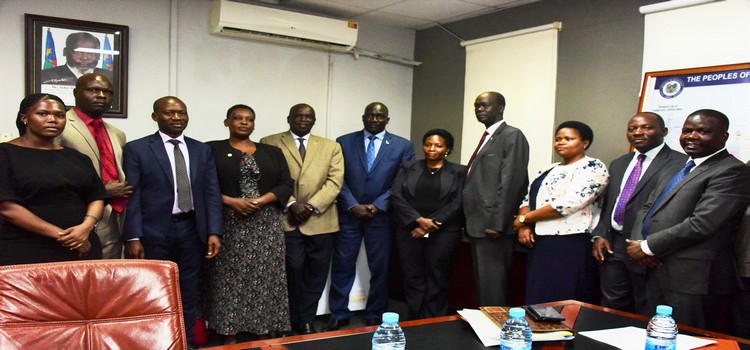 The Government of South Sudan has established a committee to verify the Ugandan traders claiming compensation for supplying goods to South Sudan before and after the 2013 civil war.
This was revealed by South Sudan's Deputy Minister of Finance and Planning, Goc Makauc Mayol, on Monday, 06 May 2019, in a meeting with Ugandan Members of Parliament.
"Our direction is now clear; the three ministries have agreed to form a committee to look into issues of traders. The Ministry of Defence has already submitted its representatives, and ours will be ready today, " said Makauc.
Makauc added that, "the committee we have formed will sit, strategize and call you [MPs] up with possible queries. Whatever the committee will come up with, will be brought to the attention of the three ministries to take a decision".
The South Sudan based verification committee is a five man committee comprised of officials from the Ministry of Finance and Planning, Ministry of Defence and Veteran Affairs and Ministry of Trade, Industry and East African Affairs.
The Select Committee investigating claims of non payment of Ugandan traders is in South Sudan to meet officials of the government there as they find a solution to the impasse.

The committee is led by Hon Ann Maria Nankabirwa.
The Ugandan legislators called on the verification committee to fast track the process for traders who fall into category A. These are the traders who claim to have been at the level of payment; some had received cheques that bounced, others had bank guarantees that failed, while some received part payment from the Government of South Sudan.
"Our humble prayer and request is that you check out faster those whose claims had reached the level of payment, so that we guide the Government of Uganda accordingly, " Ann Maria Nankabirwa; said.
Ann Maria Nankabirwa said that the verification committee will however, require ample time to thoroughly assess the documents of other traders who supplied different government agencies.
The Ugandan delegation availed the verification committee with documents of claimants approved by Uganda's Ministry of Trade, Industry and Cooperatives.
The Committee hopes to obtain the verified lists in order for Parliament to appropriate traders' claims in the 2019/2010.
"Our concern as a committee is that we get the final list that will be submitted to the Government of Uganda, so that Parliament uses the committee report to appropriate funds for the payment of traders, " said Hon Herbert Ariko(Soroti Municipality).