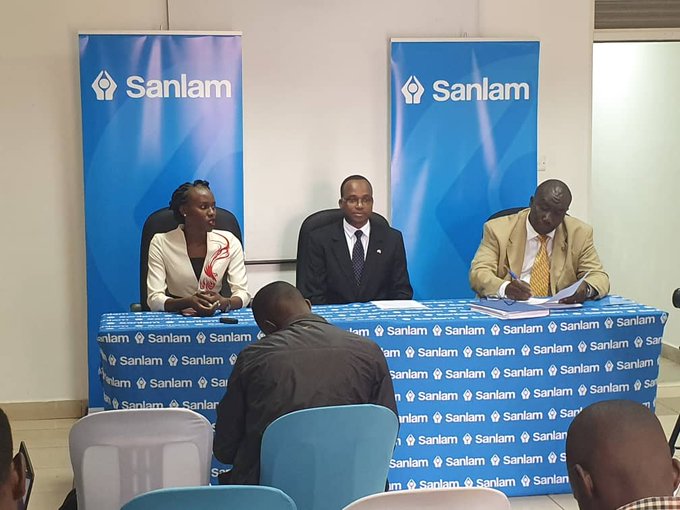 With its 10-year celebrations just a few months away, Sanlam Uganda is giving back to its life insurance customers.
Through the Better Life campaign,a number of top-performing pupils in the forthcoming Primary Leaving Examinations will have the opportunity to further their high school education through a scholarship at a high school of their choice.
As a pioneer inuniversal secondary education in Sub-Saharan Africa, Uganda has registered an increase in secondary school enrollment, specificallyfrom families that can't afford to pay school fees.
In a bid to supplement this, the Sanlam Better Life campaign aims to improve the lives of pupils and their parents by giving them the means to attend the school of their dreams, as well as financial relief when it comes to school fees for higher education.
Sanlam gives back to society every year through its various CSR projects, just yesterday we launched the Sanlam Uganda Inspire Initiative, a new umbrella Corporate Social Responsibility (CSR) Programme that will incorporate all our CSR initiatives in the country John Lintari, CEO of Sanlam Life Insurance Uganda said at the Better Life campaign launch held at the Sanlam Life Head Office in Bugolobi.
"As we draw closer to our ten-year celebrations, we are focusing on the education sector, assisting our clients through our vast experience, and logistical support and tools to plan for their children's education," he added.

Sanlam clients with children registered for Primary Leaving Examinations will complete an application form to enter their children in the competition that can win them a scholarship.
Lintari said Sanlam is excited to provide the upcoming leaders of Uganda with an opportunity to shape them for the future.
According to Hon Dr. John Chrysostom Muyingo, the State Minister for Higher Education, "Education is a human right as enshrined in articles 30 and 34 of the Constitution of the Republic of Uganda.
"According to the minister, Sanlam's effort to offer scholarships will go a long way to cover the funding gap created by the government policy on cost sharing when it comes to boarding fees for secondary education.
Applications officially open today, and Sanlam's existing and new policyholders can enroll their children through the various Sanlam offices countrywide, or through registered Sanlam agents.
Entries close on 30 November 2019.