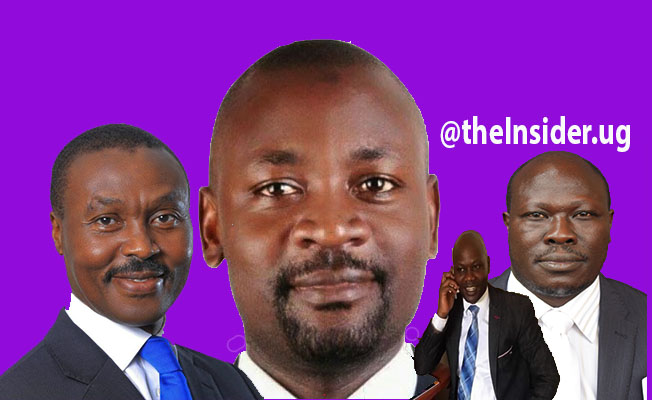 Rajab Kaaya Ssemakula, one of the aides to the Alliance for National Transformation (ANT) National Coordinator, Gen. Mugisha Muntu has stood his ground and refused to renew his contract with the Parliament of Uganda.
Kaaya a renowned adult educator cut short his contract in order to actively get involved in forth coming 2021 general election, for the Nansana Municipality seat.
He was working with the office of the Leader of opposition since the tenure of Kasese Woman Member of Parliament Hon. Winnie Kiiza to the current one of Hon. Betty Aol.
The former Forum for Democratic party (FDC) National Youth Vice Chairperson, vowed to reclaim his triumph that was dubiously handed over to the ruling National Resistance Movement's (NRM) Kasule Robert Ssebunya.
It should be noted that immediately 2016 general elections, the country was immersed in a series of by-elections and election cases where one of them was the Nansana cases handled by retired ruling party cadre Justice Stephen Kavuma.
According to the 2016 electoral commission results, Nansana Municipality was won by Democratic Party's Wakayima Musoke, Seconded by FDC's Rajab Kaaya Sema and in the third position was NRM's Kasule Ssebunya. Days after, Wakayima's triumph was challenged by NRM's Ssebunya in court on ground that Wakayima used the wrong names in the National register to contest for the juicy position.

This matter was handed over to Justice Stephen Kavuma who ordered Wakayima out of the August House but it so was surprising that Kavuma 'illegally' declared NRM's Ssebunya who was number three in the race as the winner without a by-election, leaving the second candidate hanging in balance, a move that till now is being condemned by official that treasure the rule of law.
However on resigning from his duties at the start of this week, Kaaya said that 2020 is a year of politics therefore he needs to secure Nansana that is lying in wrong hands of Kasule who even voted for president Museveni's life presidency move.
Below is his full Statement on the matter.
Thank You, Alhamudulilah
It's been an honor and pleasure to serve!
Thank you my distinguished brothers and sisters, colleagues and friends in the Office of the Leader of the Opposition ( OLOP ) Parliament of Uganda. It's been an honor and pleasure to work and serve with you.
In a Special way I want to thank Hon. Winnie Kiiza former LOP for giving me an opportunity to serve the great institution of Parliament.
In addition I want to extend my sincere thanks to Hon. Ibrahim Nganda Ssemujju, the Chief Opposition Whip ( COW ) who has been my immediate supervisor for the guidance, respect and good working relationship.
Equally important to note, I want to thank the Director Office of the Leader of the Opposition Dr Ekirapa Ruth Byoona ( PhD ) for the professional guidance, inspiration, career growth and development. You have been and will continue to be a source of inspiration to me and other colleagues. Amidst turbulence you encouraged and stood with the oppressed.
Lastly I want to thank the Institution of Parliament, Parliamentary Commission headed by the Speaker of Parliament for the opportunity and socio – economic welfare of staff and members. Thank you HR, thank you Madam Clerk.
In the same spirit , I want to forgive the colleagues and fellow opposition leaders who did everything within their means to have my contract terminated from working in Parliament and failed. Those who visited and uploaded, took screenshots of everything that I post on my Facebook wall to make their case to the Parliamentary leadership, I take no offense.
Out of respect, discipline and professionalism, I couldn't share the several correspondences on social media in that regard.
There is no doubt working for the Parliament of Uganda has not only given me an opportunity to grow politically but to also understand in depth how the Institution works. This comes with additional experience from my previous assignments in KCCA for six years which is another legislative body, Teaching/Training and from my political background.
In August 2018 , when I announced at a thanks giving party that was attended by both the former LOP Hon. Winnie Kiiza and current LOP Hon. AOL Betty and all the staff of OLOP that I would not seek for renewal of my contract in 2020. Many colleagues were shocked and others approached me wondering why I made that pronouncement. I told them that I come from a political background and 2020 will be a year of Politics.
Alhamudulilah, thanks to the Almighty Allah for the gift of life, knowledge, understanding and wisdom. Allahuma ameen
Kaaya Rajab Sema
Adult Educator/Politician Nansana Municipality